Campagnolo Ceramic Bottom Brackets
Kogel Bearings supports Campagnolo Ultra Torque crank sets on virtually any frame platform. From the classic English or Italian threaded to PressFit30, BB86, 386EVO and BB30.
The main benefit of switching to Kogel Bearings is that our bearings are fully sealed. The Campagnolo CULT bearings lack any seals, which makes them susceptible to contamination.
Easy Installation
No specific tools are required for the installation of these bottom brackets, other than a bearing press or traditional tools for threaded cups.
The system is held together by a large allen bolt in the center. In order to remove the bearings from the crank spindles, we recommend the CBP-1 puller set made by Park Tools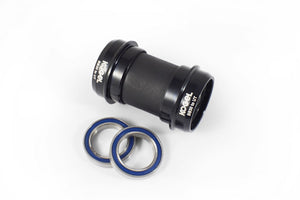 Campi Bottom Brackets
On a smaller scale, Campagnolo uses two other bottom bracket standards:
Over Torque: Campagnolo's twist on 30mm spindles. Compatible with any Kogel Bottom Bracket designed for 386EVO, Rotor 30mm or Easton Cinch crank sets

Power Torque: a standard developed as a budget option to Ultra Torque. Kogel Bearings does not support this standard.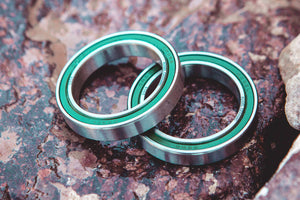 WHY

Upgrade/Replace Your Bottom Bracket
Even new bikes with new high-end drivetrains can, and usually do, ship with bottom brackets using steel bearings.
Even if perfectly maintained, those steel bearings just won't roll as smoothly or efficiently as our ceramic steel bearings.
Kogel Ceramic Bearings are:
More symmetrical (i.e. round) and built to stricter tolerances than steel bearings

More efficient for power transfer than standard bearings

And, won't deform, flat-spot, crack or get pitted
Beyond the basics of keeping your bottom bracket clean and maintained, perhaps the most important step is ensure your bike's best performance is using a bottom bracket manufactured with high-quality ceramic bearings.
Sentir que necesito menos watts para avanzar más rápido subiendo el puerto mítico deLetras y sintiendo mi cadencia más ligera nunca estuvo en mi ecuación antes de kogel

Lili Cardenas
SHOP

Campagnolo Bottom Brackets
Benefits
Warranty
Expert Advice
FAQ
RIDING ON BORROWED TIME
No amount of bearing grease can fix a cheap bottom bracket. It will never ride as efficiently as a ceramic-based bottom bracket. Over time the performance only gets worse becoming, literally, a drag on each pedal stroke.
DRIVETRAIN BLISS
Now imagine riding your bike with ceramic bearing components, feeling the silky smooth 100% power transfer from each pedal stroke to your rear wheel. Your crankset spins almost completely silent with hardly any effort. A feeling lasting for years, not months.
EXPERIENCE GUARANTEED PERFORMANCE
Kogel's ceramic bottom brackets are one of the best options for maximizing the performance of your bike. Our entire line of silky-smooth bearing products offer exceptional value and guaranteed performance. Ready to experience your bike's true potential? Use the bottom bracket finder to find the right bottom bracket for all your bikes.