What is the cost of a ceramic bearing upgrade for bicycles? Part 1
posted by Ard Kessels
February 18, 2015
Ceramic bearing upgrades come in all shapes and sizes. First there are the different parts of the bike that can be upgraded, then there is a plethora of brands and non-branded products to choose from.
There are three main parts of the bicycle where ceramic bearings can bring benefits over steel bearings: the wheels, bottom bracket and derailleur pulleys.
The cost of a ceramic Bottom Bracket
The bottom bracket is a central part of the bicycle. It is similar to the transmission in a car in a way that it handles all the power transfer between the engine and wheels. Where a car transmission only handles forces along the central axis, a bottom bracket deals with oscillating movements and side loads due to the pedaling. There can be some lateral load due to wave washers or crank bolts that are tightened too much. Our bottom bracket is living a rough life down there! Needless to say that quality is key here.
A quick search on Ebay teaches us that ceramic bottom brackets are available from $35 plus shipping. From the tests we have done, these bottom brackets are hit and miss. Some are decent, some take only a few weeks before the bearings are pulverized.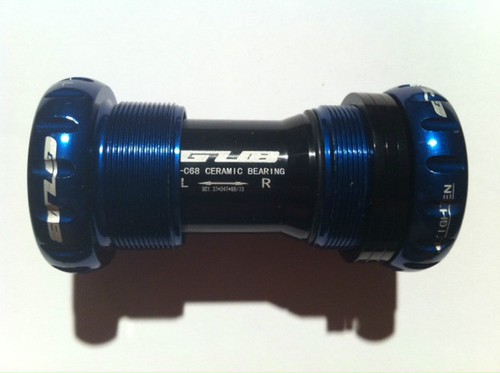 A ceramic bottom bracket from the 'exotic' brand GUB is yours at $45 with free shipping
Enduro bearings makes two types of ceramic bearings: Zero and XD15, with the main difference being the quality of the ceramic balls and the fact that Zero are radial ball bearings and XD15 are angular contact. Their bottom brackets are priced around $200
Ceramicspeed is the gold standard by which all other bearings are measured. They sponsor many of the world's best athletes, and like your Oakley shades, that reflects in the price. Their bottom brackets typically  cost $359, or $499 if you choose to go with the coated bearing races.
Ceramicspeed's top offer will set you back $499
As a reference: Kogel Bearings range between $160 and $190, depending on the model.
The cost of ceramic wheel bearings
A typical bicycle wheel set runs on six bearings: two in the front hub, two in the rear hub and two in the freehub. The biggest challenge is often to find out which bearings go where. With the wheel set in hand, it is easy for a mechanic: just open the hub and note the bearing numbers, or measure the size of each bearing, which usually can be done without removing the bearings. An internet search can sometimes prevent this work, but some brands are notoriously secretive about their bearing  sizes.
For easy comparison we have determined the cost of an upgrade for two common hub types.
Ebay search results tell us a cost of $58 for a set of DTSwiss 240s and $54 for a set of 2015 zipp hubs of whichever was the cheapest we could find.
Enduro zero comes in at $224 for the DTSwiss hubs and $234 for the Zipp hubs.
Ceramicspeed leaves the shop with you for either $539 or $969, depending on your choice for coated races.
Kogel has a flat fee pricing of $260 for six bearings, regardless of wheel type.
In part two of this post we will look at derailleur pulleys and draw conclusions on the total cost of ownership.