Listing the most common problems with bottom bracket standards, part 2
posted by Ard Kessels
May 04, 2015
Part one of this post covered threaded, BB30, PressFit30 and BB86/92 bottom brackets. Today we will investigate some more brand specific standards.
BBRight
Developed by Cervelo and until today only  available with their frames, BBRight is PF30 based, but makes the non-drive side of the frame wider in order to build a stiffer connection between the bottom bracket and all other frame tubes. The Idea is great to create more real estate in this congested part of the bicycle frame, but I have always wondered why only one side was adjusted.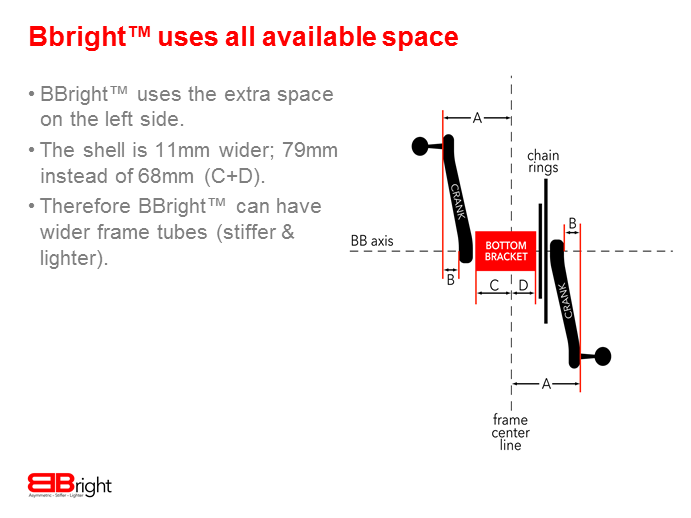 BBRight was created as an open standard by Cervelo. Until today it has not been used by any other brand except Gerard Vroomen's spin-off mountain bike brand Open.
By making the bottom bracket wider, Cervelo also ruled out the chances of fitting any BB30 cranks on their frames and most other cranks require at least one adapter or a conversion bottom bracket.
386EVO
This standard was developed by FSA and seems to tick all the boxes: wide set up, all carbon construction possible, looser production tolerances similar to PF30 and it fits any crank except BB30. Funny enough, this might be one of the least applied open source standards. Besides Litespeed and some Euro brands like Wilier and BH, not many come to mind.
I started off this article by saying we have not found that one standard that works for everything, so there must be an element to ruin this party: Because of the large and wide BB shell, 386EVO is known to interfere with may power meters. It is hard to place magnets for cadence measuring and with a lot of spider based systems the crank seems to grind on the frame in one way or the other.
BB90
Only used by Trek, BB90 for road bikes and BB95 for mountain bikes uses shimano sized bearings that are pressed directly into the carbon shell of the frame. Although the system is wide, which means stiff, it has a range of issues. The first one is that it basically restricts the user to using shimano or Sram GXP cranks. Any other crank will simply not fit. There is a mathematical chance that it does hold a 30mm spindle, but the bearing sizes that need to be applied are not up to the rigors of someone punching 1000+ watts in a town sign sprint.
BB90 is a standard exclusive to Trek, wich presses the bearings directly into the carbon shell.
The other issue is that the bearings are pressed directly into the carbon. With tolerances on carbon shells being what they are, this could either work well, or not so much. Another problem that I have seen is that the BB shell ovalizes over time from repeated compression of the carbon under pedaling forces. Trek's solution for either problem is to send out a custom sized 'V2' bearing, which is a slightly larger version of the 6805 size that should have fit initially.
BB30A/PF30A
Just when we thought that bottom brackets on frames were stabilizing and over time might even filter out a winner, Cannondale decided to throw a wrench in the system last year. They introduced PF30A and BB30A almost simultaneously. Both standards are based on the standard BB30 or PF30, but with 5mm added, only on one side. Hence the 'A' stands for Asymmetric. The official word is that it helps build frames with better chain lines, the result is that it only fits a PF30A specific crank set. That's right. Any Shimano, Sram, FSA, Campagnolo or Rotor will not fit unless you load up a bunch of spacers.
So far we have only found PF30A adapters available on the market. Kogel Bearings will release a conversion bottom bracket shortly.
Oh well, that is keeping the work at Kogel Bearings interesting. We have introduced our BB30A to 24 bottom bracket and probably will build a PF30A to 24 conversion soon so you are not as limited.
Conclusion
Listing off the issues with each and every system, I sound like an Angry Dutchman. But that is not the case, I am more a roll-with-the-punches kind of guy. As long as the bicycle industry has not made up it's mind about how we should fit a crank in a frame, Kogel Bearings will keep on producing bottom bracket solutions to fit your parts and keep them quiet. I hope this list helps you when you are planning to buy your next frame or crank set or looking to build a full custom rig.
Oh… and in case you were wondering: my personal favorite BB and crank combination is a PF30 frame with our conversion bottom bracket and a Shimano crank. I run that on most of my bikes when I'm not testing new products. I love how the PF30 allows any crank to fit and how the shimano cranks are nuke proof.