PressFit-30 (PF30) Bottom Brackets
Looking for a PressFit 30 bottom bracket? Kogel offers ceramic PF30 bottom brackets to fit just about any crankset including 30mm, 24mm, DUB and GXP crank spindles, so you're sure to find a bottom bracket that mates your press fit bottom bracket shell with your crankset. 
About the PressFit 30 BB Standard
PressFit 30 (PF30) bottom brackets have a frame shell width of 68mm for road bikes and 73mm for mountain bikes. Inner diameter is 46mm.
The PressFit 30 has been widely used by many manufacturers over the years. From Cannondale and Specialized all the way to the small scale frame builders.
At the time of introduction it was deemed a way to increase stiffness, better fit 30mm crank spindles and reduce weight on carbon frames due to the elimination of threads, which require aluminum inserts to be bonded into the frame.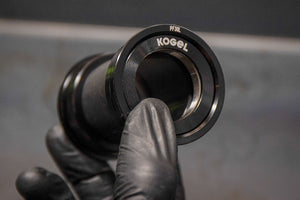 PF30 vs BB30 Standards
The main difference between the two standards being the intermediary cups that sit between the frame and the bottom bracket bearings.
BB30 bearings press directly into the frame, PressFit 30 bearings sit in a cup, which is pressed into the frame.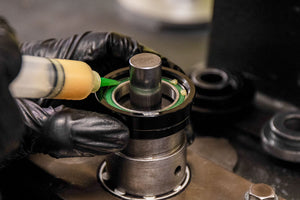 WHY

Upgrade/Replace Your Bottom Bracket
Even new bikes with new high-end drivetrains can, and usually do, ship with bottom brackets using steel bearings.
Even if perfectly maintained, those steel bearings just won't roll as smoothly or efficiently as our ceramic steel bearings.
Kogel Ceramic Bearings are:
More symmetrical (i.e. round) and built to stricter tolerances than steel bearings

More efficient for power transfer than standard bearings

And, won't deform, flat-spot, crack or get pitted
Beyond the basics of keeping your bottom bracket clean and maintained, perhaps the most important step is ensure your bike's best performance is using a bottom bracket manufactured with high-quality ceramic bearings.
I feel like it motivates you to pedal even harder on the racetracks when you know that your BB runs so smooth and free

- David Trummer

The YT Mob
Shop

PF30 Bottom Brackets
Benefits
Warranty
Expert Advice
FAQ
RIDING ON BORROWED TIME
No amount of bearing grease can fix a cheap bottom bracket. It will never ride as efficiently as a ceramic-based bottom bracket. Over time the performance only gets worse becoming, literally, a drag on each pedal stroke.
DRIVETRAIN BLISS
Now imagine riding your bike with ceramic bearing components, feeling the silky smooth 100% power transfer from each pedal stroke to your rear wheel. Your crankset spins almost completely silent with hardly any effort. A feeling lasting for years, not months.
EXPERIENCE GUARANTEED PERFORMANCE
Kogel's ceramic bottom brackets are one of the best options for maximizing the performance of your bike. Our entire line of silky-smooth bearing products offer exceptional value and guaranteed performance. Ready to experience your bike's true potential? Use the bottom bracket finder to find the right bottom bracket for all your bikes.