Oversized Derailleur Pulleys
The next generation of Kogel ceramic derailleur pulleys has arrived. Ready to maximize the performance of your existing rear derailleur? 
Kogel's latest ceramic oversized derailleur pulleys take a fresh look at pulley design maximizing pulley size and improving efficiency for any derailleur. 
Our latest oversized derailleur pulleys feature larger tooth engagement and add a chain catcher on the lower pulley guaranteeing accurate shifts and better chain retention on every ride.
And hey, if you want to take your drivetrains efficiency to an even greater level, check out our collection of oversized derailleur cages.
Oversized IS Better
Looking to upgrade or replace worn-out pulleys? Now there's even more to love about Kogel's ceramic oversized derailleur pulleys. Here's what makes our pulleys awesome:
Larger pulleys reduce chain deflection...a fancy way of saying "lower friction"

Larger pulleys mean slower rotating bearings...yet another way of saying "lower friction"

Bomb-Proof stiffness for snappy shifting

7075 Aluminum for longer life than stock plastic pulleys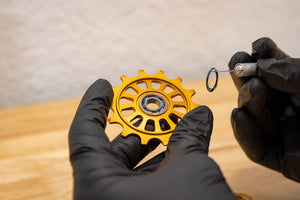 Choosing Seal Type
Kogel ceramic oversized pulleys come in two seal options, specific to road and off-road use. Simply choose the best seal for your riding environment from the drop down menu on the product page.
Road seals, for lowest friction - The minimal contact seals find the balance between reducing friction losses and maintaining the Guaranteed Performance Warranty.

Cross seals, for best protection - These seals are built for leaving the beaten path, for riders that live for Rule #9. They offer the best durability regardless of the weather conditions.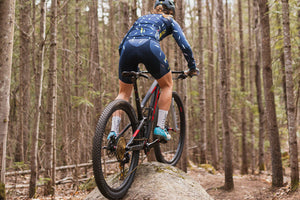 WHY

Upgrade/Replace Your Derailleur Pulleys
Your current pulleys might be worn to the bone, or you might be looking for next level performance. There is no denying that derailleur pulleys play a big role in how well a drive train functions.
Kogel Derailleur Pulleys are:
Easy to install on your existing derailleur cage

Made with high-quality materials designed to resist wear

Covered by our two year, Guaranteed Performance Warranty on the bearings 
Stock pulleys on most derailleurs are made of plastic, which makes them susceptible to flex and premature wear. Upgrading to Kogel oversized ceramic pulleys will reduce drive train friction, improve shifting accuracy and save you from making trips to the shop to replace worn out pulleys.
Sentir que necesito menos watts para avanzar más rápido subiendo el puerto mítico de Letras y sintiendo mi cadencia más ligera nunca estuvo en mi ecuación antes de Kogel

Lili Cardenas
Cross-country is a sport where every pedal stroke counts. With Kogel bottom bracket bearings and pulleys, I have more power and fluidity which means higher speed and confidence!

Cindy Montambault
Shop

Oversized Derailleur Pulleys
Benefits
Warranty
Expert Advice
FAQ
RIDING ON BORROWED TIME
Relying on a drivetrain where friction, wear and plastic pulleys running on cheap bearings are causing sloppy shifting is "no bueno". Durability is sacrificed and that "new bike" feel fades fast.
DRIVETRAIN BLISS
Now imagine derailleur pulleys that are built for optimal chain retention and long-term wear, helping your rear derailleur deliver accurate shifts season after season.
EXPERIENCE GUARANTEED PERFORMANCE
Kogel ceramic oversized derailleur pulleys drive cycling bliss with hard 7075 aluminum wheels for durability, chain catchers for stiffness, and hybrid ceramic bearings. Ready to improve your bike's performance?