BSA Bottom Brackets for Mountain Bikes
There appears to be a revival of the threaded BSA bottom brackets. Not to worry, Kogel Bearings offers podium-grade BSA ceramic bottom brackets for your mountain and some cyclocross bikes.
While those of you already rockin' threaded BBs on your mountain bikes may dismiss the flurry of attention, many bike manufacturers are migrating back to this classic BB design.
About the BSA MTB BB Standard
BSA is the classic English thread for mountain bikes and known for the durability and simplicity. Frame shell width is typically 73mm with a 1.37"x24tpi thread. Other frame widths are 68mm on vintage frames, 83 mm for downhill bikes and 100 for fat bikes. BSA threaded bottom brackets.
What can you do to improve upon this classic design? Add ceramic bearings, of course. Also, our MTB threaded bottom brackets ship only with cross seals better protection from the trail.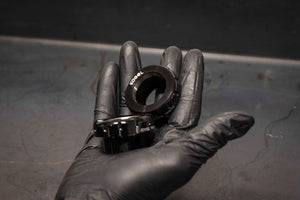 Choose the Correct BSA BB
Remember not to install a MTB version of a threaded bottom bracket on your non-mountain bike frame. Why?

Chances are your road frame bottom bracket shell will be narrower and the spacing will be off because the mountain-bike version has larger cups. Click over to our page dedicated to road BSA bottom brackets for more options.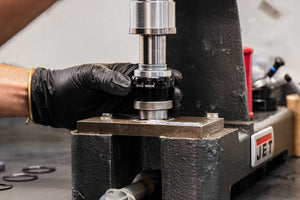 WHY

Upgrade/Replace Your Bottom Bracket
Even new bikes with new high-end drivetrains can, and usually do, ship with bottom brackets using steel bearings.
Even if perfectly maintained, those steel bearings just won't roll as smoothly or efficiently as our ceramic steel bearings.
Kogel Ceramic Bearings are:
More symmetrical (i.e. round) and built to stricter tolerances than steel bearings

More efficient for power transfer than standard bearings

And, won't deform, flat-spot, crack or get pitted
Beyond the basics of keeping your bottom bracket clean and maintained, perhaps the most important step is ensure your bike's best performance is using a bottom bracket manufactured with high-quality ceramic bearings.
It's really nice to continue growing a relationship with Kogel as they value our feedback and are constantly focussed on the performance of their products.

Neko Mulally

Intense Factory Racing
Shop

BSA Mountain Bike Bottom Brackets
Benefits
Warranty
Expert Advice
FAQ
RIDING ON BORROWED TIME
No amount of bearing grease can fix a cheap bottom bracket. It will never ride as efficiently as a ceramic-based bottom bracket. Over time the performance only gets worse becoming, literally, a drag on each pedal stroke.
DRIVETRAIN BLISS
Now imagine riding your bike with ceramic bearing components, feeling the silky smooth 100% power transfer from each pedal stroke to your rear wheel. Your crankset spins almost completely silent with hardly any effort. A feeling lasting for years, not months.
EXPERIENCE GUARANTEED PERFORMANCE
Kogel's ceramic bottom brackets are one of the best options for maximizing the performance of your bike. Our entire line of silky-smooth bearing products offer exceptional value and guaranteed performance. Ready to experience your bike's true potential? Use the bottom bracket finder to find the right bottom bracket for all your bikes.