Kogel Bearings | The Best of 2022
posted by Dimarco Barea
January 04, 2023
Looking back at 2022 it was a challenging year for the bike industry in general and for Kogel. When I say that, this comment needs to be taken with a grain of salt. It was a challenging year because 2022 came right after the magical year of 2021, when our business increased its revenue by 62%, and if you had bike parts in the warehouse, there would be someone ready to buy them. It's hard to follow a perfect storm with another perfect storm.
We can call 2022 a reality check with many highlights. Let's roll!
Team
Without a doubt, it was the team at Kogel that made 2022. I believe that everyone in the company is a salesperson, even if their job title says production, shipping, or anything else. This is why everyone on the payroll participates in daily online sales training and comes to weekly meetings with our coach.
Having a daily point of reflection drove a different attitude throughout the business. Our sales team spends a lot of time on outbound phone calls. Something I have not seen in our industry.
A retailer said, "You call me more often than my Trek rep and we do millions of dollars of business with them."
Seeing our production team almost push each other out of the way to help a walk-in and then gather and solve issues as a group was an eye-opening experience. I was just standing in the corner with my jaw dropped to the ground. They proved that day that everyone is a salesperson.
I owe 100% of the success of Kogel to the people that drive the business every single day. For that I am grateful and I will choose this as my number one highlight of the year. Let's go team!

Moment: Interviewing Jolanda Neff
In my job, I get to speak to a lot of athletes that are the best in their field and usually they turn out to be pretty normal and likable people once I talk to them face-to-face. Equipped with this knowledge, I typically approach these conversations or interviews with some casual confidence and think that everything is going to be alright.
July 30th was a different scenario.
I have been a huge fan of Jolanda for years, even when she was a junior. The absolute epitome of a kind badass who makes everything look easy as if there is not a ton of work that goes into all her success. Jolanda has been a secret Kogel user for years. Long before the sponsorship was official, but we can't talk about that.
I went to bed early the night before, woke up jittery, and really want to believe now that she did not notice I was 100% star-struck.
The interview was a blast! She knew a lot about our products, explained how they help her win races and how her home bikes are not as good as the race bikes, since they do not always have all the best parts.
ARD: What is the last thing you check before leaving on a ride?

JOLANDA: Do I have my shoes? Do I have my helmet? Do I have my Kogel Bearings? OK, I'm ready to go.

 
Off camera, we chatted a bit about changes in the social media algorithms and the founding story of our small business. I was all smiles the rest of the day.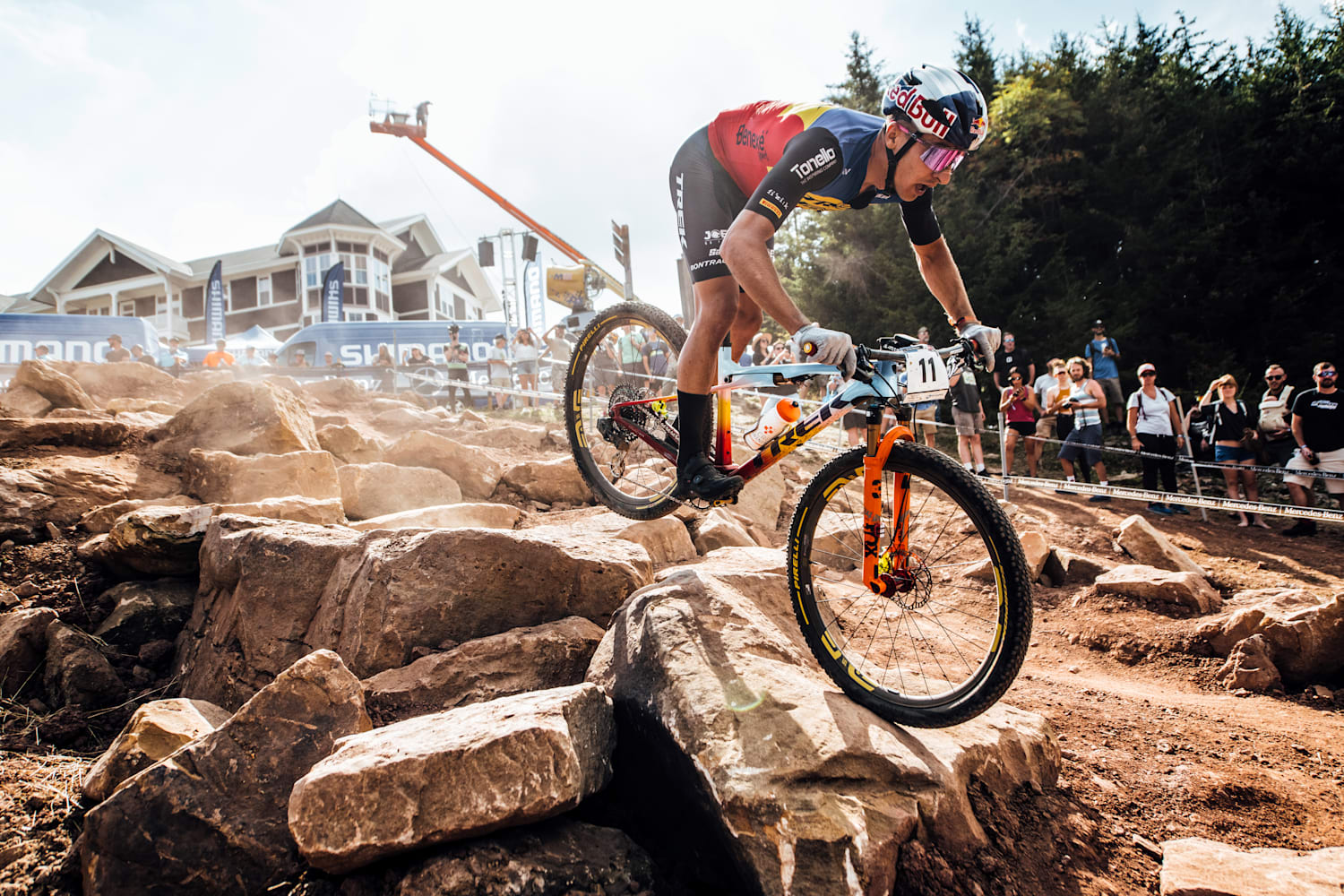 Mercedes-Benz UCI Mountain Bike World Cup at Snowshoe Mountain
Runner-Up Moment:
I took our production manager Roger to the Mercedes-Benz UCI Mountain Bike World Cup at Snowshoe Mountain. He was relatively new to the team and is not much of a cyclist. I wanted him to experience what the products he was building every day actually do once they leave the office.
He had a moment chatting with Dak Norton and Aaron Gwin
Roger said, "Hey, those guys were really nice! They know a lot about racing." 
For his first exposure to DH world cup racing, I stationed him next to a 30ft road gap and watched his face as the first qualifiers flew by. Priceless!

Picture: Kogel Preload adjuster for Sram Dub
Kogel Product
Technically not a 2022 product, but stick with me. Our preload adjuster for Sram DUB was born out of frustration. My bike was creaking around the bottom bracket and that is not a good thing. It is never a good thing, but especially bad if you're the Kogel guy. I have stayed away from group rides for this reason in the past.
The stock preload adjuster on any Sram crankset is made of plastic, whether your crank was $100 or $700. It is so flexible that it doesn't really work for the application. One day I decided to redesign the thing in aluminum. It is more functional and allows riders to color-match another part of their bike. Wins all around.
Designing a small and seemingly insignificant part in 2021 hardly grants it Product of the Year status in 2022. So let's look at this from another perspective: I found a problem on my bike, solved it and we sold 5000 units in two years, generating $100,000 in revenue. This is entrepreneurship in a nutshell. The ultimate Shark Tank moment. For this reason, our preload adjuster is my favorite product of the year.

Professional Cycling Athletes
Kogel would not be where it is today without the support of the athletes in the Kogel Collective. If you'd told me ten years ago that we would spend a multiple of my highest annual salary to that date on sponsorships, I would probably not have believed you at that time.
The feedback and validation we get from the athletes that work with our products is immensely important in our product development and marketing. Sales conversations also get a lot easier if we can assure our customers that Kogel products have been used to win world cups, rainbow jerseys, Olympic medals, and grand tour jerseys. On a personal level, watching races gets a lot more exciting, knowing that our products are helping someone be their best on their big day.
So without delay, these were my favorite victories of 2022:
Paris Roubaix
Elisa Longo Borghini wins the biggest one-day race of the year with a dominant solo finish. 
Mads Pedersen wins the sprinters jersey at Vuelta and Tour de France stage 13
2022 was the first year Kogel Bearings was officially represented in the Grand Tours with the Trek Segafredo team. Seeing Mads Pedersen sprint to victory from a small group in stage 13 caused a celebration in the Kogel office.
The Vuelta a España really saw the sprinting power come to life: three stage wins and taking the green jersey for the best sprinter after three weeks of racing. Mads got a custom green bike from Trek for his last days and Kogel could showcase our green titanium bolts. 
Dak Norton and Aaron Gwin take 3rd and 4th at the last world cup of the year.
Aaron Gwin has seen a few rough years in racing but has been steadily working on a comeback. Dak has been steadily getting faster and faster on the world cup series, resulting in a dramatic second-place quali in Lenzerheide and a wipeout on race day.
Seeing the two most visible downhill racers of the Kogel Collective come down in first and second position and seeing their celebration together was the best thing that could happen that day. Two riders beat their times later, but let's not worry about that.
Image Courtesy of RedBull.com
This was also the last time we would hear Rob Warner's voice commenting on Red Bull TV. There is zero news about the 2023 race broadcasts by Discovery, but I want to say they have big shoes to fill. 
Fenella Langridge leads the 2022 Kona World Championship
I traveled to Kona for the first time this year to witness the IronMan World Championship and wrote about my experience as a Kona Virgin in this blog.
The highlight of my week was definitely seeing Fenella Langridge take the lead in the bike leg, sporting a custom blue Kolossos to match her kit and bike. She did not make it stick for the overall win, but I definitely got emotional watching the race feed.